SHOP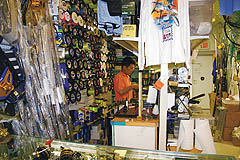 * Service Friendly and quality service is available. Do not hesitate to ask any kind of service.
True World also has a full service department for rod repair. We also have a large variety of live, fresh and frozen bait.

* Tackle Shop True World Tackle is a retail store with state of the art fishing tackle. We carry a full line of fishing rods both conventional, spinning, and fly rods, conventional reels, bait caster reels, spinning reels, fly reels, crab traps, hooks, rigs, lures, fishing line and all other tackle accessories you may need. True World Tackle also has custom fishing rods which are built by Japanese special builder in Japan. We also carry some Japanese special fishing line, lures and other items from Japan.